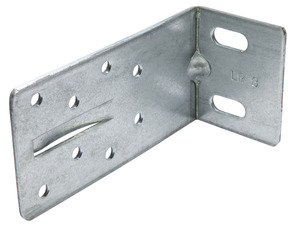 ISOLCO 3000P2 M8 &PINCE/ Galva
Facade bracket with clamp, galvanised steel Z450 for M8 dowel.
Applications
Facade insulation bracket for fixing vertical metal studs of insulated and non-insulated wall cladding
Suitable for different types of cladding: Fibre cement, HPL, terracotta, wood, ceramic, metal and alloys...
Advantages
External clamps for easy positioning of vertical posts.
Oblong hole for plumb adjustment.
Enlarged area of application allowing a seaside application, compatible with the atmosphere of buildings located within 3 km of the coastline.
---
Technical characteristics
| | |
| --- | --- |
| System | Steel framework |
| Thickness | 2.5 mm |
| Product material | Z450 Galvanized steel |
| Width | 50.0 mm |
| Height | 60.0 mm |
---
Generic code
L (mm)

367304

EQUERRE ISOLCO-3000P2 M8 Lg.80mm & PINCE
80

367305

EQUERRE ISOLCO-3000P2 M8 Lg.90mm & PINCE
90

367306

EQUERRE ISOLCO-3000P2 M8 Lg.100mm &PINCE
100

367307

EQUERRE ISOLCO-3000P2 M8 Lg.110mm &PINCE
110

367308

EQUERRE ISOLCO-3000P2 M8 Lg.120mm &PINCE
120

367309

EQUERRE ISOLCO-3000P2 M8 Lg.130mm &PINCE
130

367310

EQUERRE ISOLCO-3000P2 M8 Lg.140mm &PINCE
140

367311

EQUERRE ISOLCO-3000P2 M8 Lg.150mm &PINCE
150

367312

EQUERRE ISOLCO-3000P2 M8 Lg.160mm &PINCE
160

367313

EQUERRE ISOLCO-3000P2 M8 Lg.170mm &PINCE
170

367314

EQUERRE ISOLCO-3000P2 M8 Lg.180mm &PINCE
180

367315

EQUERRE ISOLCO-3000P2 M8 Lg.190mm &PINCE
190

367316

EQUERRE ISOLCO-3000P2 M8 Lg.200mm &PINCE
200

367317

EQUERRE ISOLCO-3000P2 M8 Lg.220mm &PINCE
220

367318

EQUERRE ISOLCO-3000P2 M8 Lg.230mm &PINCE
230

367319

EQUERRE ISOLCO-3000P2 M8 Lg.240mm &PINCE
240

367320

EQUERRE ISOLCO-3000P2 M8 Lg.250mm &PINCE
250

367321

EQUERRE ISOLCO-3000P2 M8 Lg.260mm &PINCE
260

367322

EQUERRE ISOLCO-3000P2 M8 Lg.270mm &PINCE
270

367324

EQUERRE ISOLCO-3000P2 M8 Lg.280mm &PINCE
280

367325

EQUERRE ISOLCO-3000P2 M8 Lg.290mm &PINCE
290

367326

EQUERRE ISOLCO-3000P2 M8 Lg.300mm &PINCE
300

367327

EQUERRE ISOLCO-3000P2 M8 Lg.320mm &PINCE
320
generic codes on