Production factories
The Etanco Group has 6 production sites in Europe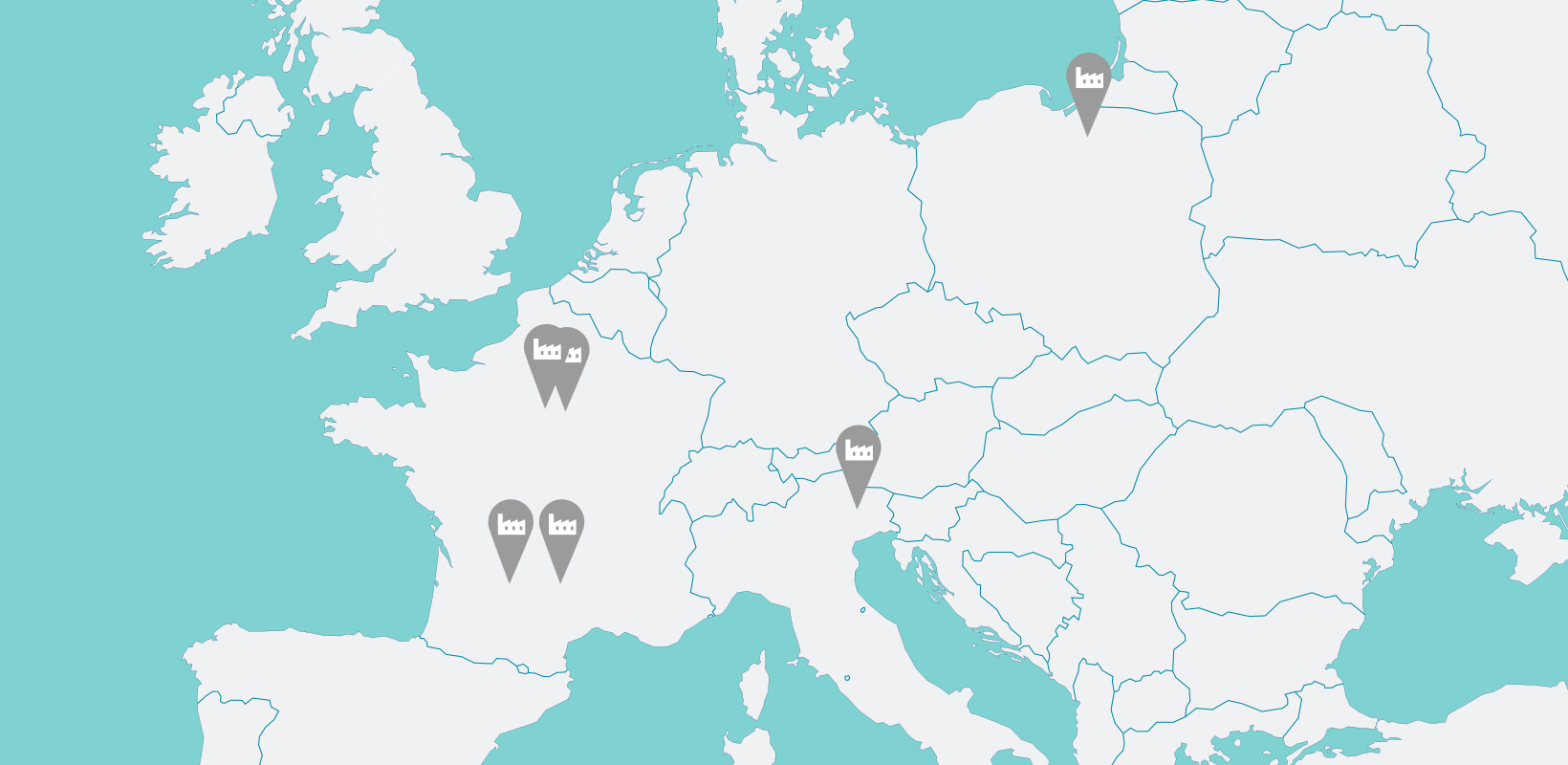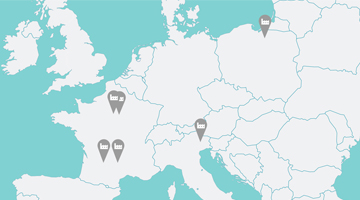 Each site has its own expertise and technologies.
ETANCO's industrial site in Aubergenville, France spreads across 35,000 m², with 8,000 m² for production and a team of 75 employees.

Coating screws & accessories
Numerous coating lines
More than 2000 colours (including 20 standards RALs)
Customised colours in large or small production runs
Learn more about coating
Metalworking

Etanco manufactures, for example, steel or bi-metal coated self-drilling screw, colorvis, drillnox, colorstop, storm washers,...

The LRMI industrial site in Aubergenville, France specialises in Zamac post-moulding and plastic injection. The site has expertise in:

Zamac post-moulding injection technology that is unique in Europe.
More than 60 million screws produced with Zamac post-moulding heads
Plastic injection presses from 40 to 400 tonnes
More than 300 tonnes of plastic material used: polyamide, polypropylene, PEHD.

Etanco manufactures, for example, thermal break systems for sealing fastenings (Etancoplast,...) and self-drilling screws with Zamac post-moulding head (Zacrovis).

With two sites in Haute-Vienne, in Saint Germain-Les-Belles and Magnac-Bourg, LRD has more than 30 years of experience in cutting and pressing metal parts. LRD also uses hot galvanisation sherardising techniques (process that is complementary to hot galvanisation and that enables zinc to be applied to metal parts via thermal diffusion).

Twenty 40 to 300 tonne presses
More than 3500 tonnes of strip steel cut each year
1400 tonnes of parts galvanised
300 tonnes sherardised

Etanco manufactures, for example, storm washers, vulcanised storm washers, distribution plates, façade brackets (Isolco,...)

Plastiform's was founded in 1964 and processes cellular materials which are often known as foam or cell foam. For a number of years, the company has been focusing its developments on technical markets that require specific means and expertise. Plastiform's is ideally located at a crossroads with immediate access to north-south and east-west motorways, meaning it can easily serve all of France and export to Western Europe.

Plastiform's masters all kinds of techniques, whether cutting, bonding, gluing or welding.
It also works with all kinds of technical foams: polyethylene, EPDM, soft polyurethanes or polyurethane elastomers
Find out more about Plastiform's

FRIULSIDER is bolstering its position as a leading international reference for secure fastenings (anchors and screws) with more than five decades of experience and a variety of technologies:

Cold forming
Metal cutting and stamping
Plastic injection and so on.

Etanco manufactures, for example, anchors, wood screws, bi-metal screws,...

In 2017, the ETANCO Group finalised the acquisition of Gunnebo Fastening Poland, based in Orneta.The factory of more than 15,000 m² has boosted our industrial facilities and increased our manufacturing capacities for surface treatment, plastic injection, coating and packing, meaning we can better meet market needs, particularly in Eastern Europe.

Etanco manufactures, for example, coated self-drilling screws (Colorvis, Ecovis),...