CSTB specifications 3194 and 3316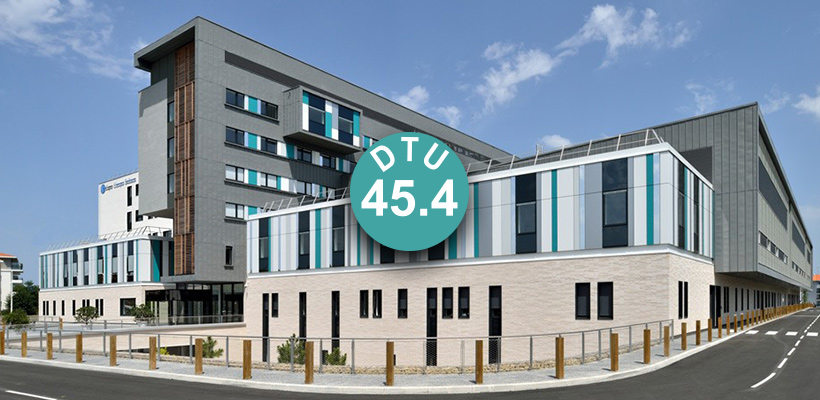 Transition from CSTB 3316/3194 to DTU 45.4
Until now, the general conditions for the design and installation of wood and metal frames associated with cladding referred to the requirements of CSTB specifications 3194 and 3316 respectively. However, since the end of 2021, the DTU 45.4 the External thermal insulation systems using external cladding with a ventilated air gap has been partially published. What has been officially published about the DTU 45.4?
The DTU consists of 8 parts. The following publications have been made:
• Part 1: Book of Technical Clauses

Part 1-1-1: CCT Common Specifications – Published October 2021
Installation of frames, insulation for all facings
Part 1-1-2: CCT Exterior facing in HPL laminated panels – Published in October 2021
Implementation of HPL panels with through fixings
Part 1-1-3: CCT Exterior facing in fiber cement panels with through fixings – Published in January 2022
Part 1-1-4: CCT Clins PVC – In progress
Part 1-1-5: CCT natural slates and fiber cement – In progress
Part 1-1-6: CCT flat concrete tiles, clay tiles, clay tiles with interlocking or flat exposure and clay tiles with interlocking or sliding with relief –In progress
• Part 2: General Criteria for Choosing Materials Published in October 2021
• Part 3: Book of Standard Administrative Clauses Published in October 2021
• What does this mean concretely?
- All cladding incorporating external facings in HPL laminated panels and fiber cement panels (installed in through fixings) are now considered by the CCFAT as traditional techniques - These applications are therefore no longer eligible for technical advice and/or transitional technical assessments ATT (unless the field of application is wider than that covered by the DTU)
• How can ETANCO support you?
Do not hesitate to contact your privileged ETANCO contact who can support you in this transition. Anxious to always make sure to meet the regulations / rules of the art in force, ETANCO accompanies you with its compliant solutions.
And we will of course continue to inform you of any developments.
Discover our articles on the same theme
ETANCO offers the widest range of fasteners for the building envelope on the market. Each site being unique and each country having to meet specific standards, allowing our customers to choose from the broadest portfolio of solutions on the market constitutes an undeniable competitive advantage.